March 6, 2009 -- Digital preservation was featured on the "CBS Sunday Morning" show on March 1, 2009 with a segment titled "Bye, Tech: Dealing with Data Rot." (external link)
Host David Pogue made the case for digital preservation on every level, using examples many can relate to. One was that of digital presentation slides from the 1990s that can no longer be shown. Why? The software program used to create the slides became obsolete some years ago.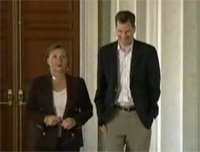 Pogue also visits the Computer History Museum in Silicon Valley to put the rapid development of information technology into context. The facility has the first computer hard drive from 1956: it weighs a thousand pounds and its storage capacity is many times less than a modern cell phone.
The segment featured interviews with two Library of Congress experts; Laura Campbell, Associate Librarian for Strategic Initiatives, and Helena Zinkham, Acting Chief of the Prints and Photographs Division. Campbell, noting the amount of material the Library contends with everyday, says the goal is no less than to "save our collective memory, to be able to pass on the human record of our time." Zinkham showed examples of prized Library items that have been digitized, including a poster from Lincoln's presidential campaign.
The need for continual migration of data, from one format to another, emerged as a key issue during the show. In the end, Pogue provided a basic three-step guide for long-term preservation: one, convert to digital; two, store the originals in a cool, dry, place; and, three, "remain vigilant".
Photo: Library of Congress Associate Librarian for Strategic Initiatives Laura Campbell and host David Pogue from the CBS Sunday Morning broadcast.