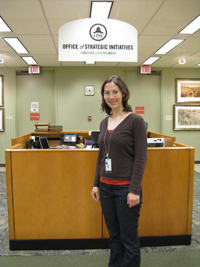 May 14, 2009 -- The National Digital Infrastructure and Information and Preservation Program hosted its first international exchange intern during April and May of 2009. Sabine Schrimpf of nestor (external link), the German Network of Expertise in Digital Preservation, worked with the NDIIPP team at the Library of Congress for six weeks to gain insight into all aspects the program.
The visit included work with the NDIIPP Communications team, study of the Library's web archiving processes, a visit to the Packard Campus of the National Audio-Visual Conservation Center, and attendance at the Archiving 2009 Conference (external link) in Arlington, VA.
"It was not only an instructive, but also a very exciting and fun time," said Schrimpf.
With both nestor and NDIIPP at transformative stages from project organizations to sustainable membership organizations, Schrimpf believes it was just the right time to visit. "I'm grateful I had the opportunity to experience the on-going efforts of the U.S. national preservation program and the preparations to formalize and sustain NDIIPP partnerships for the future from such a close range," she said. "I am taking home a lot of valuable insights."