June 30, 2009 -- A Chesapeake Project Legal Information Archive (external link) report illustrates the severity of link rot: the tendency of web hyperlinks to become invalid over time.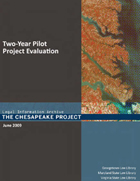 The report notes that nearly 14 percent of 4,300 online publications archived between 2007 and 2009 have already disappeared from their original locations on the web.  Due to the project's efforts, however, these publications remain available.
Sponsored by Georgetown University Law Library and the State Law Libraries of Maryland and Virginia, the Archive is a collaborative enterprise, shared by multiple institutions in the law library community, for the preservation of web-published legal materials.  Law libraries nationwide are encouraged to join this collaborative digital archive or establish similar preservation initiatives under the auspices of the Legal Information Preservation Alliance (external link).