May 11, 2010 -- Digital technology has revolutionized legislative documents. They are created and made available in entirely new ways to the benefit of all. But this change has also placed our legislative legacy at risk, as digital information is vulnerable to loss through a host of threats.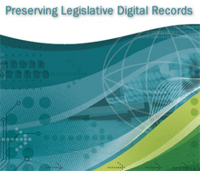 The Minnesota Historical Society is leading the Model Technological and Social Architecture for the Preservation of State Government Digital Information Project to ensure that that digital legislative records will be trustworthy, complete, durable and accessible over time.
One of the partners on the project, the National Conference of State Legislatures, (external link) has embraced the project's goal and has published a report, "Preserving Digital Legislative Records," (external link) a publication written with the legislators and staffs of the nation's 50 states, its commonwealths and territories in mind. The publication provides options, advice and simple, low-cost tools and practices on how state and local governments can address digital preservation issues, with an understanding that there is no single model for all states to follow and no single solution.
The report was released to coincide with the NCSL Spring Forum held in April of 2010 and was officially released during a conference session of the Legislative Effectiveness Committee (external link) called "Preserving our Legislative Legacies," which featured an appearance from Bob Horton, the principal investigator of the Minnesota project, and Butch Lazorchak, a digital archivist in the National Digital Information Infrastructure and Preservation Program.
Information on acquiring the report can be found on the NCSL website (external link).