September 2, 2010 -- News stories frequently address the amount of digital data we generate on a daily, monthly and yearly basis and how organizations, institutions and individuals will manage and save that data now or in the future.  Storage of that data for long-term preservation and access is a persistent challenge for digital archives.
A recent Computerworld article (external link) examined some of the issues surrounding archival storage and the large quantities of digital data generated.  Partners and staff from the National Digital Information Infrastructure and Preservation Program were interviewed for the article and they highlighted some current issues with external media storage and how some organizations are preparing for the future.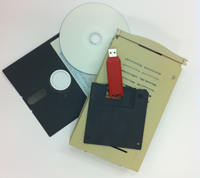 External media storage, such as hard drives, magnetic tapes, CDs and DVDs, are susceptible to environmental surroundings, most notably temperature changes that can affect data retention integrity.  NDIIPP Project Manager Bill Lefurgy reported on research and testing the Library of Congress Preservation Directorate performs on CD and DVD discs that indicate widely disparate longevity estimates.  LeFurgy also spoke about the inventory of tools and services that NDIIPP maintains.
The article cited David S.H. Rosenthal's work with Stanford University Libraries LOCKSS program and the sustainability of online storage.  He noted that drive maintenance and reliability are large issues with online storage and even if it could be improved, "there would be no realistic way to test such a system short of plugging it in and waiting 100 years."
Andy Maltz, director of the science and technology council of the Academy of Motion Picture Arts and Sciences, noted that digital data is an impermanent medium and the Academy is developing metadata standards and conversion formats for the movie industry community. 
The LOCKSS program and the Academy of Motion Picture Arts and Sciences are NDIIPP partners.