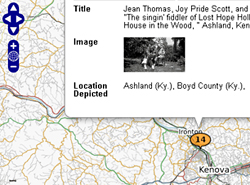 May 16, 2011 -- If you will be in the New York City metropolitan area on Thursday, May 19, consider dropping in on a public lecture about Recollection, a free and open Library of Congress-sponsored software platform for creating interfaces to digital collections.
The lecture is titled: "From Records to Data: Seeing and Sharing Digital Cultural Heritage Collections with Recollection."
The speaker is Trevor Owens, digital archivist with the National Digital Information Infrastructure and Preservation Program at the Library of Congress. Owens will introduce and demonstrate the utility of Recollection, a free open source platform for generating and customizing views (interactive maps, timelines, facets, tag clouds) that allow scholars, librarians and curators to explore digital collections in novel and intuitive ways. This demonstration will show how content stewards can ingest collections from spreadsheets, sets of MODS records, or RSS and Atom feeds and then generate a range of interactive visualizations, including charts and maps, as well as sophisticated faceted browsing interfaces for users of their digital collections.
When: Thursday, May 19th 3:00-4:30 p.m.
Where: Brooklyn Public Library (external link), Central Branch, Dr. S. Stevan Dweck Center for Contemporary Culture

Direct any questions about the event to, Central Library, 10 Grand Army Plaza – 718-230-2762.