Harriett Green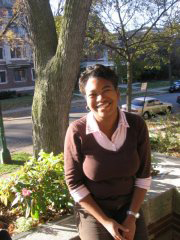 Harriett Green is the English and Digital Humanities Librarian and associate professor, University Library, at the University of Illinois at Urbana-Champaign. Her research focuses on the use and users of digital humanities tools and resources, digital pedagogy, and humanities data curation.
Her publications include published and forthcoming articles in College & Research Libraries, LLC: Literary and Linguistic Computing, Library Quarterly, EDUCAUSE Review, Journal of the Association of Information Science and Technology, and portal: Libraries and the Academy. Her research has been supported by grants awarded from the Institute for Museum and Library Services, XSEDE, and National Endowment for the Humanities. Her current research projects include serving on the research teams for Publishing Without Walls, the HathiTrust Research Center, the IMLS-funded "Digging Deeper, Reaching Further: Librarians Empowering Users to Mine HathiTrust Digital Library Resources," and the Humanities Without Walls-supported "Humanities Collaborations and Research Practices: Exploring Scholarship in the Global Midwest."
She has presented on her work nationally and internationally, including at the conferences of the American Library Association (ALA), Association for College & Research Libraries (ACRL), International Federation of Library Associations and Institutions (IFLA), Alliance of Digital Humanities Organizations (ADHO), and Modern Language Association Annual Convention. She is professionally active in the Association for College and Research Libraries, the Association for Computing in the Humanities (ACH), Association for Literary and Linguistic Computing (ALLC), and the Modern Language Association (MLA). She earned her MSLIS from the University of Illinois, and also holds a M.A. in Humanities from the University of Chicago and a B.A. in History and Literature from Harvard University.