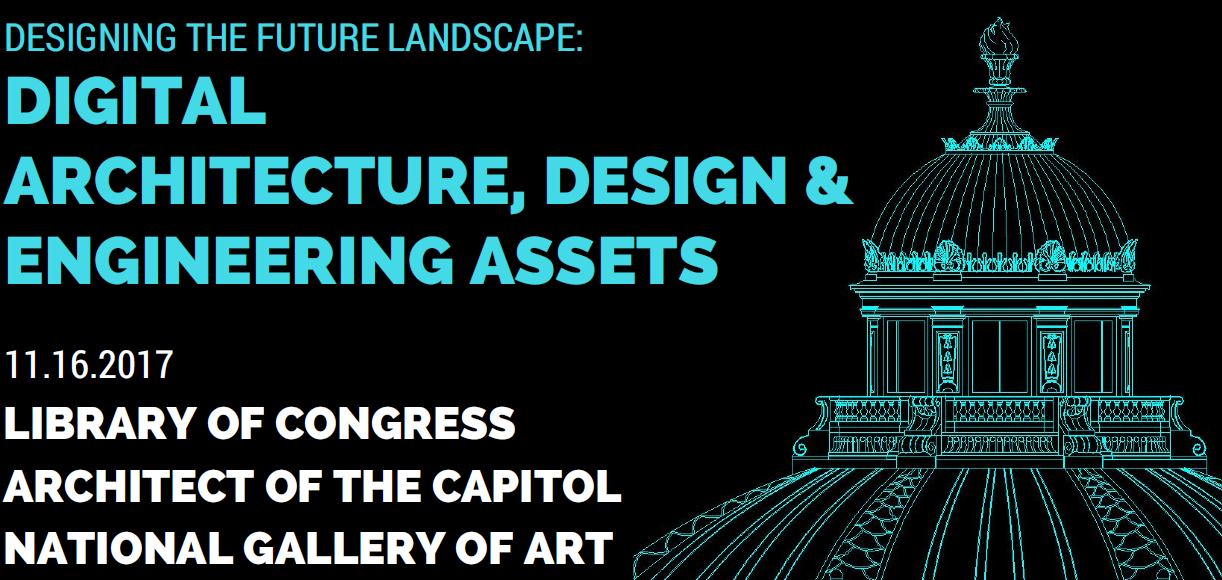 Designing the Future Landscape: Digital Architecture, Design and Engineering Assets
November 16, 2017
To advance knowledge sharing, documentation, and promotion of best practices for long-term sustainability and interoperability of digital architecture, design and engineering (ADE) assets for design and the built environment, the Library of Congress, the National Gallery of Art and the Architect of the Capitol will host a day-long symposium offering thematic discussions on these challenging topics. With contributions from various stakeholders in the ADE communities, including content creators and the caretakers, topics could include the development and implementation of open standardized file formats; case study discussions on current projects and practices, and creation of viable project deliverable specifications for new-build ADE assets. The goals of the symposium include community building, identifying common issues and challenges, and information sharing. Outcomes from this meeting will include a report with recommendations for future work.
Program Committee Members:
Alex Ball, Research Data Librarian, University of Bath
Dylan Evans, Head of Systems and Services, Royal Institute of British Architects
Kristine K. Fallon, FAIA, Kristine Fallon Associates, Inc.
Alexander Gorlin, FAIA, Alexander Gorlin Architects
Nancy Hadley, Archivist, The American Institute of Architecture
Jeff Holmlund, Lockheed Martin, Long Term Archiving Retrieval (LOTAR) Coordinator Americas
Lamonte John, Architect-Program Manager, Office of Project Delivery, General Services Administration
William Kilbride, Executive Director, Digital Preservation Coalition
Aliza Leventhal, Sasaki Associates; SAA Architectural Roundtable & CAD/BIM Task Force
Mari Nakahara, ADE Curator, Prints & Photographs Division, Library of Congress
Jeffrey W. Ouellette, Vectorworks, Inc.; Assoc. The American Institute of Architects; IES; Chair, buildingSMART International Implementation Support Group
Katie Pierce Meyer, Humanities Librarian for Architecture & Planning, Architecture & Planning Library, The University of Texas at Austin
Tawny Ryan Nelb, Nelb Archival Consulting
Suzanne Noruschat, Architectural Records Archivist, Manuscripts & Archives, Yale University
Dean Smith, Deputy Ass't Commissioner, Office of Project Delivery, General Services Administration
Tim Walsh, Digital Archivist, Canadian Centre for Architecture; SAA Architectural Records Section & CAD/BIM Task Force
Ann Whiteside, Loeb Library, Harvard University
Conference Organizing Committee Members:
Library of Congress
Kit Arrington, Prints & Photographs Division
Jaime Mears, National Digital Initiatives
Kate Murray, Digital Collections and Management Services
Grace Thomas, Digital Content Management
Architect of the Capitol
Stacie Byas, Records Management and Archives Branch, Curator Division
Leslie Matthaei, Records Management and Archives Branch, Curator Division
National Gallery of Art
Kurt Helfrich, Gallery Archives
Michele Willens, Gallery Archives
The program committee is currently working with the organizing committee to curate program content and perform outreach in the community. Details on the symposium schedule and topics will be forthcoming.
For any questions, please contact Kit Arrington, Digital Library Specialist, Prints and Photographs Division - Library of Congress at karr@loc.gov. Also, tweet using the hashtag: #DigADE2017 with any questions leading up to the event.